best practices > sample project summaries
Red Deer County Open Space
Cultural Landscape Type: Designed and Evolved Continuing
Project Name: Red Deer County Open Space Master Plan
Project Type: Documentation Project, Inventory, Historic Research; Planning Project, Comprehensive Open Space Master Plan, Management Plan; Intervention Project, Adaptation for New Use, Construction Projects; Management/Stewardship/Legal Elements, Landscape Management Systems
Location: Red Deer County, Alberta, Canada″
Cultural Landscape Size: 4000 sq km (1500 sq mi)
Property Owner/Steward: Red Deer County
Funding: Red Deer County, 4-phase, 5-year project total $225,000
Relevant Historical Dates: Early settlements established late 1800s
Historic Landscape Architect, Designers: N/A
Project Team: The Urban Lab, Faculty of Environmental Design, University of Calgary (Dr. Bev Sandalack, Francisco Alaniz Uribe, Fraser Blyth, Matt Knapik, Braden Abrams-Reid, Blair Marsden, Matthew Knapik, Chris Selvig, Kristina Meehan-Prins, and Nathalie Woodhouse); and Dillon Consulting Ltd. (Jamal Ramjohn, Alex Taylor, Adrian Buckley, and Natalie Seniuk)
Awards:
Regional Citation Award - Canadian Society of Landscape Architects 2009
Award of Excellence for Parks and Open Space Design - Recreation for Life Foundation 2009
Award of Merit, Alberta Professional Planners Institute 2010
Contact: Dr. Bev Sandalack, Professor and Research Leader, the EVDS Urban Lab, University of Calgary. sandalack@ucalgary.ca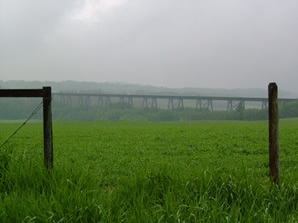 Project Description:
Red Deer County is one of the fastest growing regions in Alberta, with some 4,000 square kilometers (1500 square miles) of land that consists of parkland, prairie, rivers, and coulees. Over the course of 2005-2009, the Urban Lab at the University of Calgary, in collaboration with Dillon Consulting Ltd., completed a multi-phase, comprehensive and innovative open space master plan. Phase one consisted of a physical inventory of all County-owned open spaces, resulting in an extensive map-referenced GIS database; consultation with residents throughout the County, to help to identify and document cultural landscapes, historic sites, places of interest, and paths; and assessment of issues and opportunities. Seven landscape "zones" were then identified to reflect the diversity of the natural and cultural landscapes within the County, and to aid in addressing all of the population areas equitably. The townscape analysis approach (developed by the team in previous projects) was employed to gain a thorough understanding of the project zones. A concept plan for the County as a whole was prepared to provide a clear and legible structure, and open space concepts for each zone were developed to enhance the natural and cultural assets, provide linkages, and address needs. A phasing plan and policies, strategies for moving forward, and design of several site-specific short-term projects were included in the final phase.
The sheer scale and scope of this project are noteworthy, and the methodology was effective for dealing with multiple scales, environmental/cultural contexts, and levels of resolution, and for involving the residents, staff and other stakeholders in educational and meaningful ways.

. . .deterioration or disappearance of any item of the cultural or natural heritage constitutes a harmful impoverishment of the heritage of all the nations of the world.
World Heritage Convention Concerning the Protection of the World Cultural and Natural Heritage, 1972